Five years to the day after storm-induced mudslides ravaged Montecito, the entire town was ordered to evacuate as a deadly winter storm plowed through the area.
Evacuation orders were also issued for parts of Santa Barbara and the nearby communities of Carpinteria and Summerland due to Monday's deluge.
The weather took a deadly turn in San Luis Obispo County, where floodwaters swept away a 5-year-old boy and a motorist died after entering a flooded roadway.
The conditions prompted officials to plead that residents stay home.
"This is not a day to be out doing anything if you don't have to," said Santa Barbara County Sheriff Bill Brown.
The storm's force and duration was readily apparent, with videos from the area showing normally tame creek beds transformed into raging torrents, roads choked with water and debris and, in one case, a person kayaking down a street swamped by windshield-high water.
In Montecito, the storm called to mind the devastating January 2018 mudslides that killed 23 people, destroyed 130 homes and caused hundreds of millions of dollars in damage.
On Monday afternoon, Ryan Ausanka-Crues walked about 100 feet from his home on East Valley Road to a bridge over Montecito Creek. The creek was full and roaring, the sound of tumbling boulders emanating from the muddy water.
"I was there a couple of hours ago and took a video," Ausanka-Crues said. "It's wild."
During the 2018 mudslides, his home was spared from damage, but his neighbors' was not. Still, Ausanka-Crues said he had no plans to leave yet.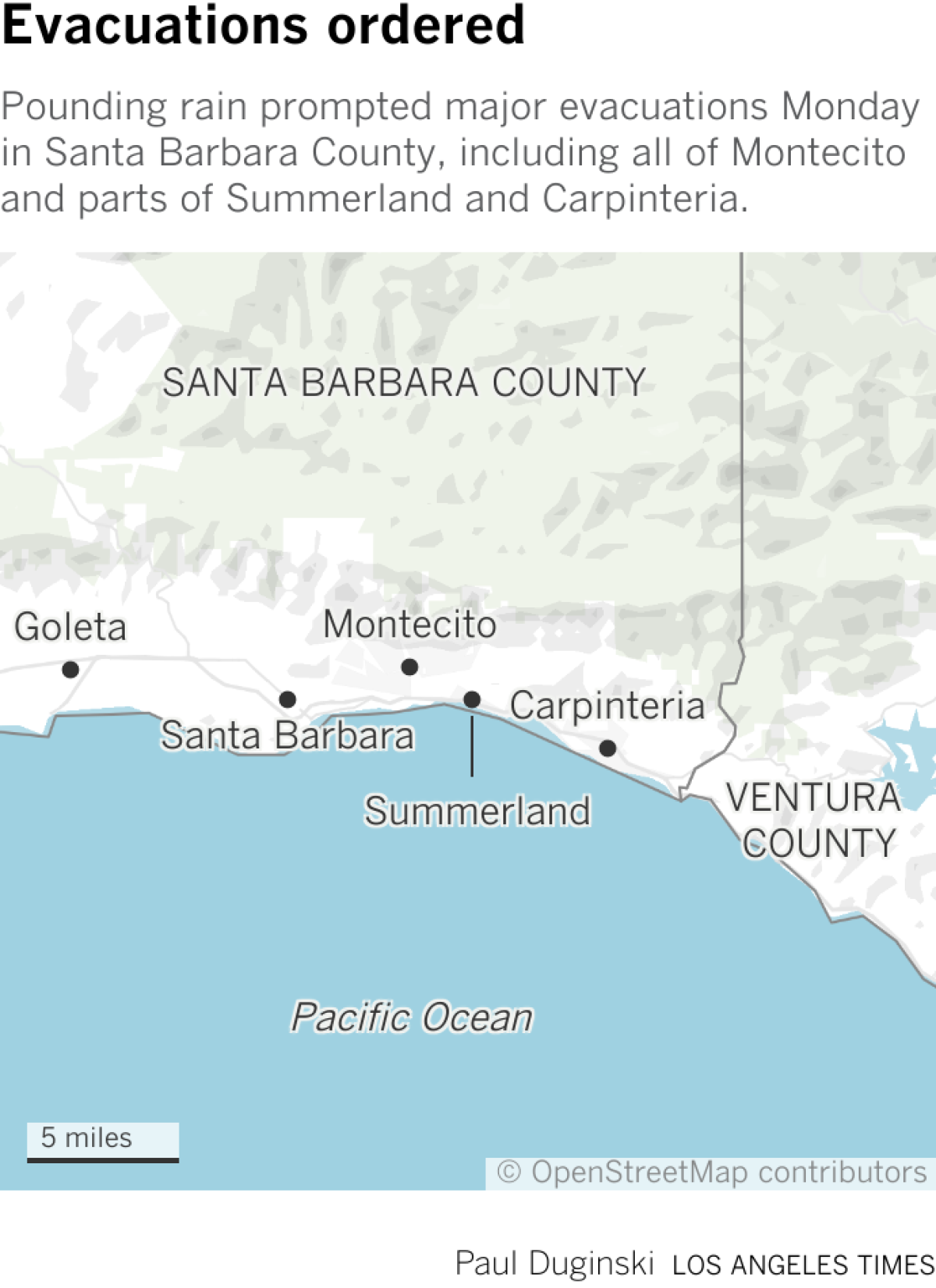 "I feel pretty good this year, but you never know," he said.
Alfredo Garcia, 55, couldn't find a hotel after he brought his wife from Lompoc to Santa Barbara for a PET scan for the three different cancers she is battling. They left around 9 a.m. Monday but by the time they tried to return, the roads were closed.
Garcia was one of the first to arrive at the temporary American Red Cross shelter at Cathedral Oaks School, and helped to set up cots.
"It's hard for her here," said Garcia, who left at one point to buy Tylenol for his wife. "But I'm sure there's other people going through harder than us. We're blessed someone opened door for us and gave us shelter here."
The evacuation in Montecito is largely due to the types of hazards that can come with steep terrain and wildfire burn scars, said Michael Anderson, state climatologist at the California Department of Water Resources.
"When you get heavy rain waves like this, it makes the land more prone to landslides and debris flow," he said. "And to make sure that we don't repeat the incidents after the Thomas fire, they wanted to evacuate people from that area."
In addition to Montecito, the evacuation order applies to residents of Toro Canyon, Padaro Lane from Via Real to Santa Claus Lane and Sycamore Canyon, and all campgrounds from Rincon Beach to Gaviota Beach.
Another evacuation order was issued about 2 p.m. for the Serena Park area due to flooding. Cal Poly San Luis Obispo said it was evacuating its agriculture facilities, including the Cal Poly Creamery, amid concerns about the Shepard Reservoir needing to release floodwaters. The campus core is not affected by the evacuation.
In Santa Barbara, confused tourists and business owners took photos of flooded buildings. A BMW SUV was stranded in two feet of water in the middle of Gutierrez Street.
Nearby, in Goleta, the storm forced Rudy Ramirez, 55, and his wife and four sons to ride out the torrent in their truck. The family was returning home to Santa Maria from a vacation in Big Bear when the 101 Freeway shut down, leaving them stranded. Since all hotels were booked, they had no option but to spend the night in the truck.
"I'm not feeling good about it, but we have no other choice. You go on vacation thinking you're gonna relax. Now look where we are," Ramirez said with a laugh.
As of Monday evening, the storm had dropped eye-popping rainfall totals across the region — including 13.3 inches at San Marcos Pass in Santa Barbara County, 12.3 inches at Nordhoff Ridge in Ventura County and 11.5 inches at Rocky Butte in San Luis Obispo County.
Much of southwestern California was under watches and warnings for floods, high wind and high surf, according to the National Weather Servicewith many of the advisories stretching into Tuesday.
In Ventura County, evacuations were ordered for the Ventura Beach RV Resort; residences on the south side of Creek Road from Camp Comfort to Highway 33, and the community of La Conchita — where a mudslide killed 10 people in January 2005. Officials are also keeping a wary eye on the Ventura River, which has been the site of homeless encampments and is at risk of flooding.
According to Ventura County Fire Capt. Brian McGrath, 18 people have been rescued from islands and areas under bridges along the Ventura River.
In San Luis Obispo County, rescuers called off the search for a 5-year-old boy swept away by floodwaters Monday afternoon when conditions became unsafe for divers to continue looking, according to Tony Cipolla, spokesperson for the county Sheriff's Office.
Firefighters responded to a call about 8 a.m. regarding a vehicle in the San Marcos Creek crossing near Wellsona Road outside of San Miguel, Cipolla said. A mother and her 5-year-old were trying to cross a road that had been flooded. After their car started to get swept away by the creek, both jumped out of the car.
The mother was rescued by a nearby property owner, but the boy continued down the floodwaters, according to Cipolla, who added that authorities constantly reevaluate conditions and will resume the search if it becomes safe to do so.
Cipolla warned residents to stay away from low-lying areas and to find alternate routes if there's water on the roadway.
Elsewhere in San Luis Obispo County, a motorist died after entering a flooded portion of Avila Beach Drive, according to the California Highway Patrol's Coastal Division. Evacuations have been ordered in several neighborhoods near the Salinas River in Paso Robles.
The rain wreaked havoc on roads — shuttering sections of the 101 Freeway and Highway 1 throughout the day, as well as completely closing Highway 154.
The storm also forced the closure of Santa Barbara Airport and the cancellation of classes Monday and Tuesday at UC Santa Barbara.
The Santa Barbara County Fire Department said at a news conference Monday that various agencies had stepped up staffing and activated rescue patrols in anticipation of heavy rains Monday evening. Mark Hartwig, Santa Barbara County fire chief, reported downed power lines, trees and at least one rescue in the Refugio canyon area.
Authorities in San Luis Obispo County received calls of fallen trees and rock and mudslides on several roads, the Public Works Department said in a tweet Monday.
The storm is the latest in a series of atmospheric rivers lashing the Golden State. The most significant impact is in Northern California, prompting concerns over flooding and hazardous winds. Late Sunday, President Biden approved an emergency declaration for the state.
"This [storm] will be quite strong, very energetic, delivering a lot of rain plus strong, gusty winds," said David Sweet, a meteorologist for the National Weather Service in Oxnard.
The atmospheric river, or warm plumes of airborne moisture from the Pacific Ocean, are expected to bring two waves of intense rain to Southern California through Tuesday evening, weather experts said. The National Weather Service's Storm Prediction Center warned of marginal risk of isolated strong to severe thunderstorms late Monday into Tuesday. The center also warned of the possibility of brief tornadoes.
Another storm is likely this weekend, forecasters say.
The storm is predicted to pick up in intensity before tapering off Tuesday evening. Rainfall amounts in Los Angeles County are expected to reach 2 to 4 inches along the coast and in coastal valleys and 4 to 8 inches in the foothills and mountains, especially south-facing slopes.
Wind gusts could top 60 mph at the coast and 70 mph in the mountains. Snow will likely remain above 7,500 feet.
A high wind warning is in effect for San Luis Obispo and Santa Barbara counties until 10 p.m. Monday and in the Los Angeles County mountains and the Antelope Valley until 7 p.m. Tuesday. A wind advisory went into effect Monday at noon until 10 p.m. for portions of southwest California, including the Catalina and Santa Barbara Islands and Ventura and Los Angeles counties.
High surf advisories are in effect through 4 p.m. Tuesday for the beaches of Ventura, San Luis Obispo and Santa Barbara counties, with dangerous rip tides and waves reaching 12 feet in some areas.
Urban and small-stream flooding is likely, Sweet said.
Areas that were damaged in previous wildfires pose serious hazards. In unincorporated L.A. County, evacuation warnings were issued from 6 p.m. Monday through 8 p.m. Tuesday near the area of the Lake fire and the north end of the Bobcat fire burn scars because of the possibility of mud or debris flows, according to county officials.
The warning included parts of the communities of Lake Hughes and Kings Canyon: near the 20000 block of Pine Canyon Road; the 18000 block of Ellstree Drive; the 46000 block of Kings Canyon Road; the 1800 block of Newvale Drive; and the 43000 block of Lake Hughes Road. The warning for the Bobcat fire burn area includes, at the north end, the Juniper Hills and Valyermo areas along the foothills of the San Gabriel Mountains.
L.A. County Public Works issued a Phase 2 mud flow forecast for the Fish fire area near Duarte from Monday evening to Tuesday at 8 p.m.
Rain and strong winds were spreading into Orange and southwestern San Bernardino counties Monday, along with gusty south-to-southeast winds. Parts of Orange, San Bernardino and Riverside counties were under a flood watch through Tuesday evening, and a wind advisory that took effect at 4 p.m. Monday extends until 4 p.m. Tuesday in the inland and coastal areas of Orange County, according to the National Weather Service in San Diego.
Monday's storm comes on the heels of a series of weather systems last week in California that pummeled coastal communities and left more than 400,000 without power on Sunday.
The atmospheric river is essentially "draped along the Central Coast," slamming the area from Monterey County into Santa Barbara County with the heaviest rainfall, with some downpours extending northeast and southwest, Daniel Swain, a climate scientist at UCLA, said.
"This is just the middle of what has already been a very wet and active pattern — and what is expected to be one, really, for at least another week or so," Swain said.
Times staff writers Rong-Gong Lin II, Richard Winton, Summer Lin and Hayley Smith contributed to this report.