GREEN BAY, Wis. – The Green Bay Packers will win this year's Super Bowl. I think I've written that before each of the past 11 seasons. Why not, right? The Packers have a great quarterback and a quality supporting cast. There's no reason why the players shouldn't be celebrating in the confetti on Feb. 12, 2023, in Glendale, Ariz.
Without a premier receiver like Davante Adams, this obviously will be a different team. Different doesn't necessarily mean bad, though. Whatever firepower the offense is lacking, the defense is ready, willing and able to pick up the slack.
"All throughout camp and OTAs, I've been talking about the standard," outside linebacker Rashan Gary said. "When you become a Green Bay Packer, you've got to understand that comes with us and that means becoming a champion. Everybody in this locker room has a championship mindset and pushes each other every day to be a champion. And we're going to get to where we need to be."
The Packers have fallen short of that championship destination in excruciating fashion each of the past three seasons. In 2019, they went 13-3 but got destroyed in the NFC Championship Game at San Francisco. Getting homefield advantage was the goal in 2020, and they got it with another 13-3 season. But in an empty Lambeau Field, the Packers couldn't complete the comeback in a five-point loss to the Buccaneers. In 2021, the Packers again earned homefield advantage with a 13-4 record. With fans in the stands and snow in the sky, they had everything in their favor but lost again to the 49ers due to poor play on offense and abysmal play on special teams.
Scroll to Continue

So, starting Sunday at the Minnesota Vikings, the Packers will take another shot at winning a Super Bowl that seems impossibly elusive. Nobody is hiding from that ultimate goal. This is Titletown, not Division Titletown. The time is now, before the window of opportunity slams shut for who knows how long.
Here are 14 keys to this finally being a Super season and the Packers bringing a 14th NFL championship back to Titletown.
Reason No. 1. Aaron Rodgers
Aaron Rodgers, the four-time MVP, is coming off arguably the best back-to-back seasons in NFL history with 85 touchdowns vs. nine interceptions. He might have lost some of his escape-ability, but he's got a wicked arm, incredible accuracy and the IQ and experience to outwit every defensive coordinator on earth.
Moreover, Rodgers is at his best when he's got something to prove. He's got a lot to prove without Davante Adams. You think I can't throw for 4,000 yards and 40 touchdowns without a No. 1 receiver? Just watch.
Reason No. 2. Dominant Defense
This is a great defense. I'm convinced of it. So long as the Injury Gods shine on Joe Barry's unit, it might be the most talented defense, No. 1 to No. 11, in the NFL. There isn't a weak link on the defensive chain. The defensive line is deep and disruptive. The outside linebackers are proven menaces. The inside linebackers could become the NFL's best. The cornerbacks are as good as it gets. The safeties are strong and experienced.
The one thing that struck me as the summer progressed was the swagger in this group. For years, the defense has taken a back seat to Rodgers. It's understandable. The offense scored points by the bushel and the defense's job was to get just enough stops. Not anymore. The defense is the driving force behind this team and it knows it. It was striking to see Rasul Douglas and Rashan Gary woofing at Rodgers.
"We embrace it. We love the hype," defensive tackle Kenny Clark said. "This defense, we're going to stick together throughout whatever. I think this is a really close group of defenders and we got a lot of talent. I'm excited to see how we all come together Week 1."
Reason No. 3. AJ-Squared
Aaron Jones and AJ Dillon are one of the top one-two backfield punches in the NFL. Here's a prediction: They will combine for close to 3,000 total yards and score at least 25 total touchdowns, with Dillon topping 1,000 rushing yards and Jones catching 70 passes.
"Jonesy's such a slasher and, when he gets the ball, he's tough to take down," quarterback Aaron Rodgers said. "He's got a great balance, low center of gravity. And 28 learned how to run behind his pads, and he can punish, especially in the wintertime, but he can also make you miss. He's tough to bring down. He's got tremendous quad size and strength. Both of those guys in space, I think, can be really productive for us. So, it's finding ways to get those guys into that space."
Reason No. 4. No-Fly Zone
Today's NFL is all about the quarterbacks. Great quarterbacks win games; thus, it stands to reason that great cornerbacks win games, too.
The Packers have great cornerbacks. According to Sports Info Solutions, Jaire Alexander has allowed a sub-50 percent catch rate each of the last three seasons. Rasul Douglas and Eric Stokes were sub-50 percent last year, too.
Healthy again, Alexander is ready to resume his place among the best cornerbacks in the NFL. Douglas, the very definition of journeyman cornerback to start his career, blossomed into a star last season. Based on his training camp, he wasn't a one-year wonder. Stokes has the potential to be great.
"You got one of the top corners in the game in Rasul, who's having a hard time getting minutes in base. That tells you how good they are on the back end," Aaron Rodgers said. "Obviously, Ja has been a lockdown guy all camp and 21 [Stokes] keeps getting better and, if he learns how to catch the ball, he's going to be a perennial Pro Bowler for us."
Reason No. 5. Can't Stop Gary
Rashan Gary had a breakout season last year when he finished second in the NFL in pressures. When he has 15 sacks and close to 100 pressures this year, the rest of the league will finally recognize it.
Reason No. 6. Turnovers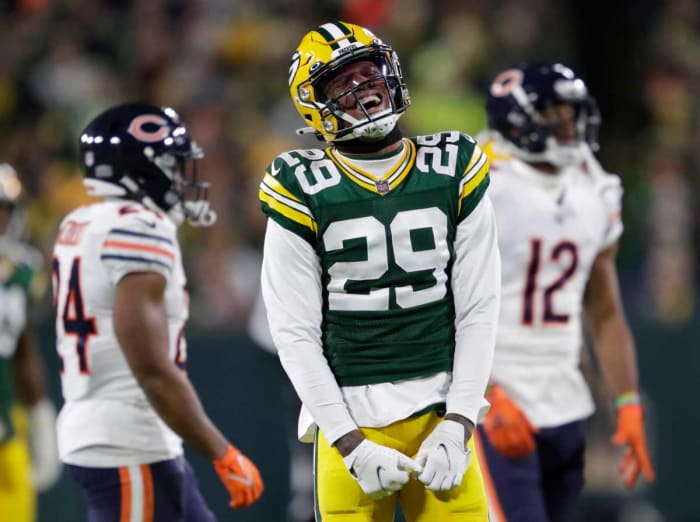 There's something to be said about simply not losing games. Aaron Rodgers has the lowest interception percentage in NFL history, Aaron Jones and AJ Dillon rarely fumble, and the defense should force takeaways by the bushel with great coverage and a strong pass rush.
Under coach Matt LaFleur, the Packers in regular-season games are 30-0 when they win the turnover battle and 34-1 when they create at least one turnover.
Key No. 1: Getting Healthy, Staying Healthy
If left tackle David Bakhtiari and right tackle Elgton Jenkins can return to the field and stay on the field, coach Matt LaFleur will be able to open up the playbook. On the other hand, it's going to be a long season if the Packers have to either go quick or max protect all season. That's not winning football against top defenses, especially with a limited receiver corps.
Key No. 2: Doubs and Watson
Aaron Rodgers can probably win games with Allen Lazard, Sammy Watkins and Randall Cobb as his primary receivers. But where there's room for growth is with the rookies, Christian Watson and Romeo Doubs. They have the field-stretching ability the three veterans simply don't have.
Are they ready?
"Shoot, I think they're there," cornerback Jaire Alexander said on Friday. "Right now, it's not even up for debate. They have no choice but to be ready. I told Doubs, 'You won't face anybody better than us, then what you face in practice. So, go out there and kill it.' I told 9 [Watson] the same thing. I told them every time they take a rep with the 1s, take advantage, and they have been doing so. They're ready."
Key No. 3: Run Defense
In 2019, the Packers lost in the NFC Championship Game by giving up 1.1 million rushing yards to the 49ers. In 2021, they finished 30th in the NFL with 4.70 yards allowed per carry.
Will the Packers be any better this year?
"That's the one thing that is difficult to gauge this time of year just because you truly don't know until you have to go get someone down to the ground," defensive coordinator Joe Barry said on Thursday.
Green Bay's defensive recipe is simple. Get the opposition to third-and-long and force the quarterback to make a play against Jaire Alexander, Eric Stokes and Rasul Douglas before Rashan Gary and Preston Smith arrive on the scene. The fatal flaw is if they can't stop the run and it's third-and-2 instead of third-and-8.
The secret weapon is first-round linebacker Quay Walker. A pairing of Walker and All-Pro De'Vondre Campbell will allow Barry to play nickel defense (two inside linebackers, five defensive backs) instead of dime (one inside linebacker, six defensive backs). That could change everything. How many times did opponents spread the field on third-and-1 to get Barry (or his predecessor, Mike Pettine) into dime, only to run the ball for 5 easy yards? Campbell and Walker are every-down players, which should mean better run defense on first-and-10 and more third-and-longs.
Key No. 4: Crosby's Kicks
Mason Crosby missed a league-high nine field goals last season. It wasn't all his fault. There was the end-of-camp change at punter/holder, the midseason change at snapper and the season-long issues with protection.
With a new snapper (Jack Coco) and veteran punter/holder (Pat O'Donnell) to handle the operation and a new coordinator (Rich Bisaccia) to handle everything else, there will be no excuses for Crosby. With a work-in-progress offense, the Packers can't afford to leave points on the field.
Potential Doom No. 1: Offensive Line Injuries
The Packers haven't won a Super Bowl since 2010. That championship drought is a growing part of Aaron Rodgers' career story. Would the story have a different chapter had David Bakhtiari not suffered a torn ACL at practice on Dec. 31, 2020? It's hard to believe the Packers would have allowed five sacks in a five-point loss to Tampa Bay in the NFC Championship Game had Bakhtiari been at left tackle, Billy Turner at right tackle and Rick Wagner on the bench.
How about last season had Bakhtiari successfully returned from the ACL and Jenkins not gone down in Minnesota with his own ACL tear. It's hard to believe the Packers would have lost to the 49ers with Bakhtiari at left tackle, Jenkins at left guard and Turner at right tackle instead of Turner at left tackle and Dennis Kelly at right tackle.
Injuries are inevitable. But Rodgers would love to go into the playoffs with the No. 1 offensive line in place.
Potential Doom No. 2: Nobody's Open
Let's say it's the fourth quarter of a Bucs-Packers NFC Championship rematch. Which quarterback is going to make a play on a critical third-and-8? Tom Brady with Mike Evans, Chris Godwin, Russell Gage and Julio Jones, or Aaron Rodgers with Allen Lazard, Sammy Watkins, Randall Cobb and Robert Tonyan?
A great quarterback and a great scheme can turn lemons into lemonade. But, ultimately, great players win games. Do the Packers have enough great players? Perhaps, if Rodgers is right about Lazard being a legit No. 1 receiver and one or both of the rookies turn into primetime performers for the stretch run.
"That's something a lot of people don't understand about this league. You have to reinvent yourself every year — as an individual, and as a team," tight end Marcedes Lewis wrote in The Players Tribune. "Losing a guy like Davante is tough. But when you have 12 back there at quarterback, you know you have a chance every week. And as a veteran leader, it's exciting to have so much young talent, because every week it will be someone else's turn to step up and make a play when we need it.
"
Potential Doom No. 3: Red Zone
In 2020, the Packers scored touchdowns on 80.0 percent of their red-zone possessions. That was the best mark in the three decades the league has tracked red-zone stats. Last season, the Packers fell to 19th with a red-zone touchdown rate of 58.6 percent.
"I think a big part of, I don't want to say lack of success, why we weren't quite as good a year ago, really it was third down in the red zone," coach Matt LaFleur said. "That hurt us. And so speaking to that, you have to be more efficient on first and second down, so it's all intertwined."
LaFleur's right about that. Green Bay ranked 14th with a third-down conversion rate of 43.5 percent and 17th with 3.0 yards gain per third-down snap. Improving in the red zone won't be any easier without Davante Adams. It might be easier with tight end Robert Tonyan, who scored 11 touchdowns in 2020.
On the other side of the ball, Green Bay ranked a woeful 28th in red-zone defense with a 66.0 percent touchdown rate. Green Bay's defense was too talented for that level of atrocious play.
Potential Doom No. 4: Don't Choke
Simply put, the Packers need to play better in big games. Aaron Rodgers and the special teams blew it in 2021. There was the end-of-half and end-of-game failures in 2020. The slow start and all-time horrendous run defense in 2019. The epic meltdown at Seattle in 2014.
From quarterback to head coach to everyone in between, the Packers need to play their best football in the biggest moments. Tom Brady's got the clutch gene that this franchise has lacked for more than a decade. Maybe a ferocious defense and improved special teams will be what it takes to bring the Lombardi Trophy home.
"I think Priority No. 1 for everybody is winning the Super Bowl," safety Adrian Amos said. "What I've learned over the years is one game at a time and make sure you get to that point. You have to be great to get that point. Then once you're at that point, be great again. We've got to find a way to be great in those big games."